Investing in MASSAGE is an investment in your health.
Swedish Massage
The traditional art of relaxation. These classic techniques will lull you into a state of bliss increasing circulation, relieving tension and easing sore muscles. This massage uses light to medium pressure strokes and movements
One Hour Swedish Massage $60.00
½ Hour Massage $40.00
90 minute Massage $80.00
Custom Firm Massage
This moderate to firm massage - designed to relieve built-up tension - features various massage techniques that penetrate muscles and transport you to a more tranquil place
One Hour Custom Firm Massage $65.00
Ashiatsu Oriental Bar Massage Therapy
When broken down, the word "ashi" means foot and "atsu" means pressure
This unique service gives the recipient an exquisitely deep massage with soft feet, along with expert utilization of gravity as the source of leverage. Therapist not only eases into the muscle tissue, but also stretches the myofacial layer of tissue and muscle improving posture and relieving pain. Because the soft broad surface of the foot is being utilized there is little, if any, pinpoint pressure associated with this service
One Hour Ashiatsu Massage $70.00
Deep Tissue Massage
A deep and meaningful massage treatment designed to work on stiff, tight, fatigued muscles and joints. Involves specialized and intensive deep tissue techniques to warm, manipulate and ease muscles. Not recommended for first time massage
Deep Tissue Massage - One Hour $70.00
90 minute Deep Tissue $90.00
AKMT Signature Hot Stone Massage
Heated River Stone Therapy, used to warm muscle tissue and provide deep relief
This treatment combines tension-releasing massage techniques with warmed, smooth river stones. Deep heat allows you to experience profound peace, relaxation and balance
Hot Stone Massage - One Hour $70.00
90 minute Hot Stone $90.00
Hot Stone Massages:
Hot Stone is not JUST a "Spa Treatment". The physiological effects and therapeutic benefits are many. One of the most important benefits, which isn't stressed enough, is the effect it has on the fascia. With the penetrating heat and pressure of the stones, large fascia melt quickly, freeing fascial restrictions painlessly, with ease. It's not just the muscle tissue that's warmed and softened. It's the FASCIA. Very important.
Cold Stone Therapy for Migraine Headaches
This innovative treatment is designed specifically for people who want an alternative, fast and dramatic relief treatment for all kinds of headaches without taking drugs

One Hour Cold Stone Migraine Therapy $60.00
Reflexology
The science that deals with the principles that there are reflex areas in the feet and hands that correspond with all the glands, organs and parts of the body. A unique method of using the thumb and fingers on reflex areas
One Hour $60.00
1/2 Hour $40.00
Mother Massage - 1 hour
Packages available for term of pregnancy
One Hour Pregnancy Massage $60.00
Sole Revival - 1/2 hour
Alfresco Massage
Embrace the ultimate in paradise with the perfect duet of massage and the gentle sounds of nature. Enjoy a Personal Retreat Massage, in my private Outdoor Sanctuary a truly unique experience, Some restrictions may apply.
One Hour Alfresco Massage $70.00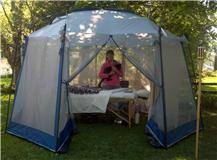 Chair Massage $1/min
Allows you to receive massage fully clothed. For those on the go. 10-15 min sessions
Shiatsu – one hour
Traditional Chinese Medicine
"Finger Pressure"
Healing with hands/Balancing Meridians
fully clothed
One Hour Shiatsu $60.00
SPA options:
Facial Massage Therapy - 1/2 hour $40.00
Body Treatments
Exfoliating Dead Sea Salt Glow: Relaxing and invigorating. Essential oils blended with Dead Sea salts to create a scrub. Designed to stimulate circulation and removed dull dry skin cells, revealing a fresher layer of skin that can better allow toxins to pass out of the body and nurturing products to be absorbed. Leaves skin looking Radiant! Increase lymph flow and circulation. Dead Sea salts have the added benefit of introducing minerals known for relaxing muscles.
Salt Glow w/massage $80.00
Cellulite Wrap: Reduce cellulite instantly. Volcanic Ash Mud Wrap decreases cellulite, firms and tightens skin. Exfoliates and improves skin appearance. Applied only to specific areas.
Cellulite Reducing Mud Wrap $90.00
Parrafin Hand Dip: It is a wonderful and relaxing treatment. Dip your hands in warm melted wax a few times to coat the entire hand, wrap it up and you sit for a few minutes; remove the wrap and the wax peels off leaving your hands silky soft . It removes dead skin and softens hands.
Your location add $20.00
Gift Certificates Available
Client Rewards Program
purchase 10 massage sessions - recieve 50% off 11th massage
Client Referral Program
$5.00 off massage for referring friends/family
Spa Treatments
Moisturizing Exfoliating Dead Sea Salt Glow

$80.00
Pamper, polish and nourish your skin with exfoliating and skin polishing Dead Sea Salts wrapped in moisturizing coconut, jojoba and sweet almond oils to refine and resurface the texture of the skin and leave it super smooth. Leaving dry and dull skin soft and glowing
Island Paradise Pedi $50.00
Kick off your shoes and enjoy a trip to the islands with a tropically inspired foot treatment designed to soften, soothe and refresh tired feet
Dare to Bare

$130.00
Get beach body ready with stunningly smooth, toned skin. Eliminate toxins and impurities with a detoxifying exfoliation allowing for maximum absorption of a firming body wrap enriched with a special blend of essential oils to reveal sleeker skin.
| Service/Product | Rate | |
| --- | --- | --- |
| Ashiatsu Oriental Bar Therapy | $70.00 | / 60 minutes |
| Healing Touch | $40.00 | / 30 minutes |
| Muscle Energy Techniques | $60.00 | / 60 minutes |
| Oncology Massage | $60.00 | / 60 minutes |
| Swedish Massage | $60.00 | / 60 minutes |